Flight Management Systems – 2 MCQ's
This set of Avionics Multiple Choice Questions & Answers (MCQs) focuses on "Flight Management Systems – 2″.
1. The standby FMC performs calculations even when both the FMC are fully functional.
a) True
b) False
2. What filter is used by the FMS to estimate the position of the aircraft from various sensors?
a) Kalman filter
b) Position error filter
c) GPS filter
d) Gyro and accelerometer filter
3. Both FMS 1 & 2 get information from only one FMC in the case of ______
a) Independent mode
b) Loss of one FMC
c) Single mode
d) Double mode
4. What is the output for the following system?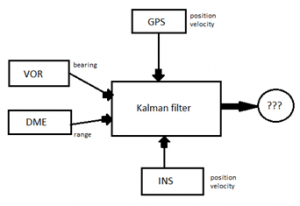 a) Aircraft position
b) All the fight data
c) Gyro and accelerometer values
d) Warning signals for wrong navigation
5. Navigational functions are no longer available if the INS shuts down in an FMS.
a) True
b) False
6. Which one of the following is not a factor for calculating speed breaches by the FMS?
a) Aircraft weight
b) CG position
c) Wind and temperature models
d) Position of the aircraft
7. Which one of the following is not a navigation mode used by FMS for computing position of the aircraft?
a) Inertial (IRS) – GPS
b) Inertial (IRS) – DME/DME
c) Inertial (IRS) – VOR/DME
d) GPS only
8. What is the interval for updating data in the navigation database?
a) 1 hour
b) 1 month
c) 24 hours
d) 28 days