Flight Management Systems – 1 MCQ's
This set of Avionics Multiple Choice Questions & Answers (MCQs) focuses on "Flight Management Systems – 1″.
1. What does the following figure represent?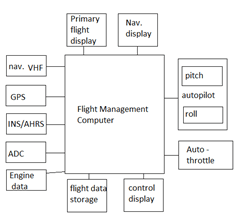 a) Flight Management System
b) Flight Data System
c) Total autopilot system
d) Flight Management Computer
2. The number of independent FMS in a typical commercial aircraft is?
a) 1
b) 2
c) 5
d) 7
3. Which one of the following is not a function of the FMS?
a) Flight guidance and control of flight path
b) Monitor and regulate speed of the aircraft
c) Automatically switch between different types of communication
d) Automatic control of engine thrust
4. Which of the following is not a way cockpit-flight crew interfaces in the FMS?
a) Primary Flight Display
b) Multi Function Display
c) Keyboard and Cursor Control Unit
d) Target Detection and Locking System
5. What control does the EFIS Control Panel provide?
a) Control over graphical and textual FMS data
b) Control over flight plan
c) Control over flight performance
d) Navigation through FMS pages
6. What operating mode of the FMS does the figure show?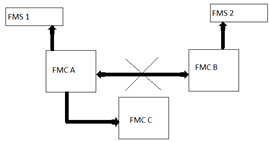 a) Double mode
b) Independent mode
c) Single mode
d) Redundancy mode
7. What type of cockpit flight crew interface is used to enter or modify the data on the MFD?
a) Keyboard and Cursor Control Unit
b) Control stick
c) Control Switches
d) Control levers
8. What is the number of Flight Management Computers used in a typical commercial aircraft?
a) 2
b) 1
c) 4
d) 3