This set of Materials Science Multiple Choice Questions & Answers (MCQs) focuses on "Amorphous Solids".
1. Metal glass was first prepared at:
a) California Institute of Technology
b) Massachusetts Institute of Technology
c) Technion
d) University of Michigan
2. Polycrystalline solids are isotropic.
a) True
b) False
3. Which of the following properties is generally exhibited by amorphous solids?
a) Anisotropy
b) Glass-transition
c) Equal strength of all bonds
d) All of the mentioned
4. Metal glasses differ from their crystalline counterparts in many ways. Chief application(s) of metal glasses include(s):
a) Bullet-proof glasses
b) Power transformers
c) Conducting wires
d) All of the mentioned
5. Soda-lime glass is the most common type of glass. The component present in largest w/w percentage is:
a) SiO2
b) Al2O3
c) Na2O
d) CaO
6. Crystallinity increases with increasing rate of cooling of a liquid.
a) True
b) False
5. Consider the following cooling diagram for an amorphous solid.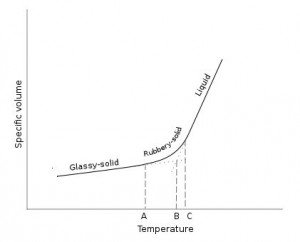 Glass-transition temperature is represented as:
a) A
b) B
c) C
d) None of the mentioned
8. Lead-oxide glass is called "crystal glass" because:
a) It contains crystalline Pb
b) It contains SiO2 crystals
c) It contains PbO crystals
d) None of the mentioned